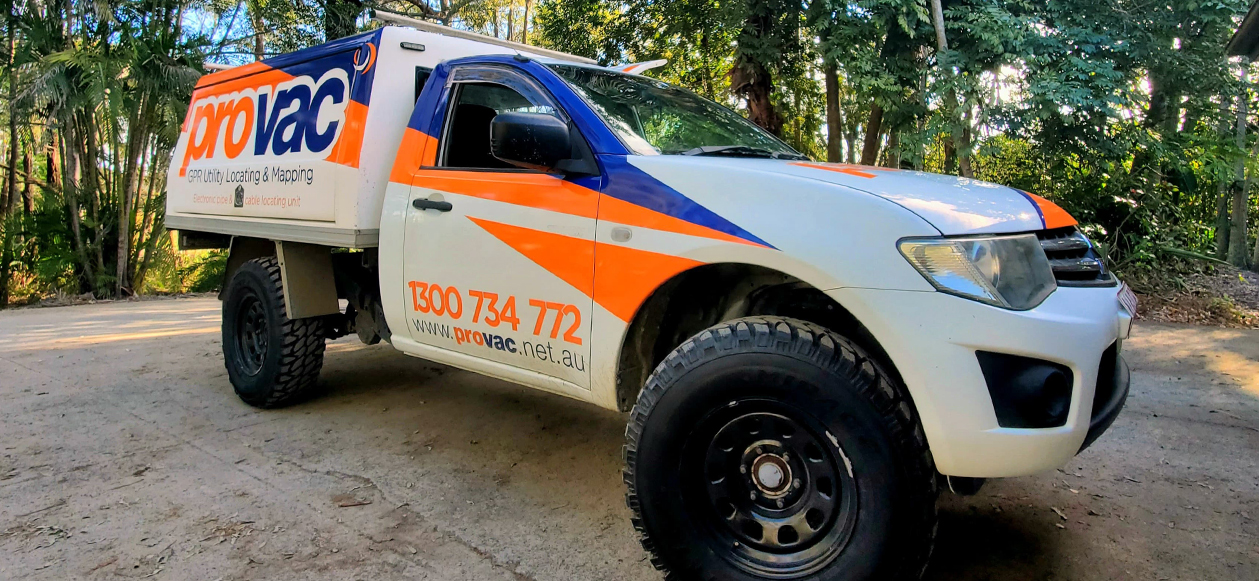 Non-Destructive Digging or Hydro Vacuum Excavation is the safest method to remove soil covering underground utilities.
Non-destructive digging (NDD) is a modern and reliable alternative to traditional excavation methods – NDD is environmentally friendly, and a sustainable choice when planning for future infrastructure projects. Unlike loud jackhammers and large drills, non-destructive digging poses minimal risk to damaging fragile utility services and its cost effective, reduces wastage, and quiet!
How does NDD work?
Non-Destructive Digging, also known as Hydro Excavation, works by penetrating soil, dirt, or sand with highly pressurised water and air. Once the soil is loosened, it is vacuumed up along with other debris using a high-powered suction hose into the hydro vac storage tank for safe disposal. Upon completion of the project, the initial soil which has been taken away can be reused to refill the hole, ultimately reducing waste and replenishing the earth.
What is NDD used for?
Non-Destructive Digging is a safe and convenient technique used to check for underground utilities before commencing a commercial or residential project. NDD is ideal for an excavation project that involves manoeuvring around buried utilities and underground infrastructure services – including power and gas lines, telecommunication and internet cables, and sewerage pipes. Conventional mechanical drilling can be time consuming and threatens the surrounding areas of the project. The cost of damaging these utilities can be exceedingly high, along with causing severe delays to the project.
What are the benefits of NDD?
Advancements in technology are improving productivity and innovating a number of industries including manufacturing and construction. Long gone are the days of manual digging and excessive digging equipment with heavy machinery. Hydrovac excavation or non-destructive digging is becoming an increasingly popular alternative to mechanical excavation. The new method reduces physical labour, lowers costs, and helps with delivering projects on time.
Some of the key benefits of NDD operations include:
Precision & Accuracy
The handheld pressurised stick is easy to use by simply directing the stream of water at the soil to cut through and soften the surface. Workers can easily manoeuvre around confined spaces with minimal interference to the surrounding environment. Even if there are obstacles in close proximity like power poles, street signs, lights, or other utility systems. The hoses are small and flexible, allowing operators to navigate around difficult areas beneath the surface.
Noise Reduction
Non-destructive digging is much quieter than conventional mechanical digging equipment, which is essential in suburban neighbourhoods and cities with residential properties and a lot of people.
Effective in Winter
The cooler months in winter can drastically delay project timelines due to poor weather where heavy machinery cannot be used. Pressurised hot water from Hydrovac systems can heat up and soften even frozen soil – allowing for construction and repair projects to continue throughout severe weather conditions and stay on track.
Less Roadwork Disruptions
Non-destructive digging can also diminish the impact on local roads, minimising closures and detours which are common inconveniences associated with infrastructure upgrades.
How can we help?
ProVac are industry leaders in non-destructive digging and are a trusted service provider across an array of industries throughout Victoria – including councils, construction, transport, and telecommunications.
ProVac can provide you with a complete solution for identifying underground infrastructure from start to finish – specialising in government, civil, and private projects.
Partner with ProVac Victoria if you want a sustainable solution to excavation that's non-invasive, non-destructive, and environmentally friendly for your next project.